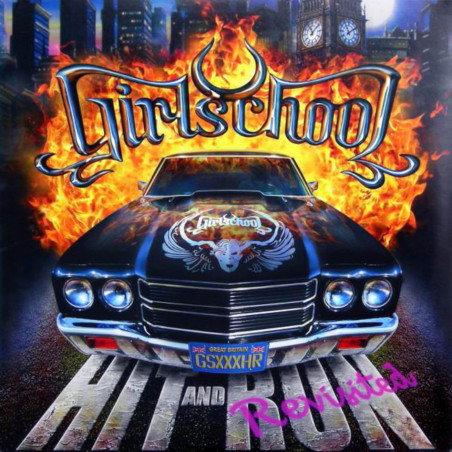  
Girlschool - Hit And Run-revisited (cd)
Entrega en 6-8 días (aproximado según Correos)
GIRLSCHOOL - HIT AND RUN-REVISITED (CD)
06 OCTUBRE 2023
---
Descripción
El álbum "HIT AND RUN REVISTED" de la banda de rock de mujeres GIRLSCHOOL se lanza en formato CD. Este álbum es el mejor disco de rock jamás grabado por una banda de mujeres, GIRLSCHOOL celebra 30 años de rock rompe-cráneos con una regrabación en 2011 de su clásico álbum de 1981 de la NWOBHM "HIT AND RUN - REVISITED". Hay un número muy limitado de álbumes de rock que han resistido la prueba del tiempo, sólo las verdaderas obras maestras siguen sonando frescas y emocionantes incluso años después de su lanzamiento. La razón de su estatus de culto: las canciones son atemporales y el sonido del álbum ha captado perfectamente la magia del momento. El segundo álbum de GIRLSCHOOL, "HIT AND RUN", publicado en 1981, fue todo un clásico. La noticia de que GIRLSCHOOL están a punto de presentar una versión regrabada de "HIT AND RUN", complementada con dos impresionantes temas extra, hará las delicias de medios y fans de todas las edades por igual.
-1-C'mon Let's Go.
-2-The Hunter.
-3-(I'm Your) Victim.
-4-Kick It Down.
-5-Following the Crowd.
-6-Tush.
-7-Hit and Run.
-8-Watch Your Step.
-9-Back to Start.
-10-Yeah Right.
-11-Future Flash.
-12-Demolition Boys.
-13-Hit and Run (with Doro).
---
Comprar GIRLSCHOOL - HIT AND RUN-REVISITED (CD) al mejor precio
¡Envío gratis a partir de 100€!
Envío a partir de 3,99€ o puedes recorgerlo gratis en Manacor o en Inca