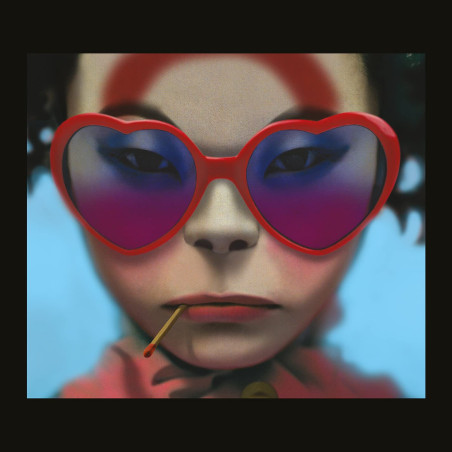  
Gorillaz - Humanz (2 Lp-vinilo)
Entrega en 48/72 horas (aprox. según Correos). Las compras realizadas antes de las 13:30 se envían el mismo día
GORILLAZ - HUMANZ (2 LP-VINILO)
Detalles del producto
Ficha técnica
Formato

LP2
---
Descripción
La banda virtual más exitosa del mundo. Junto con su regreso en abril 2017, Gorillaz estrena un film animado dirigido por Jamie Hewllet, con cuatro canciones pertenecientes a "Humanz": 'Saturnz Barz' feat. Vince Staples (que aparece al completo), además de fragmentos de 'Ascension' feat. Popcaan, 'Andromeda' feat. D.R.A.M., y 'We Got The Power' feat. Jehnny Beth. Producido por Gorillaz, The Twilight Tone of D /\ P y Remi Kabaka, y grabado en Londres, París, Nueva York, Chicago y Jamaica, "Humanz" aparece siete años después del lanzamiento de The Fall y Plastic Beach, los últimos discos publicados por la banda. Como es habitual, Murdoc Niccals (bajo), Noodle (guitarra), Russel Hobbs (teclados) y 2D (voces) vuelven acompañados de un estelar elenco de colaboradores que incluye a Jenny Beth (Savages), Danny Brown, Benjamin Clementine, De La Soul, D.R.A.M., Peven Everett, Anthony Hamilton, Grace Jones, Zebra Katz, Kelela, Mavis Staples, Vince Staples, Popcaan, Pusha T, Jamie Principle y Kali Uchis, entre otros.
LP 1
1. Intro: I Switched My Robot Off (000:23)
2. Ascension (Feat. Vince Staples) (002:35)
3. Strobelite (Feat. Peven Everett) (004:33)
4. Saturnz Barz (Feat. Popcaan) (003:01)
5. Momentz (Feat. De La Soul)
6. Interlude: The Non-Conformist Oath
7. Submission (Feat. Danny Brown & Kelela)
8. Charger (Feat. Grace Jones)
9. Interlude: Elevator Going Up
10. Andromeda (Feat. D.R.A.M.) (003:17)
11. Busted And Blue
LP 2
1. Interlude: Talk Radio
2. Carnival (Feat. Anthony Hamilton)
3. Let Me Out (Feat. Mavis Staples & Pusha T) (003:13)
4. Interlude: Penthouse
5. Sex Murder Party (Feat. Jamie Principle & Zebra Katz)
6. She's My Collar (Feat. Kali Uchis)
7. Interlude: The Elephant
8. Halleujah Money (Feat. Benjamin Clementine)
9. We Got The Power (Feat. Jehnny Beth) (002:19)
---
Comprar GORILLAZ - HUMANZ (2 LP-VINILO) al mejor precio
¡Envío gratis a partir de 100€!
Envío a partir de 3,99€ o puedes recorgerlo gratis en Manacor o en Inca