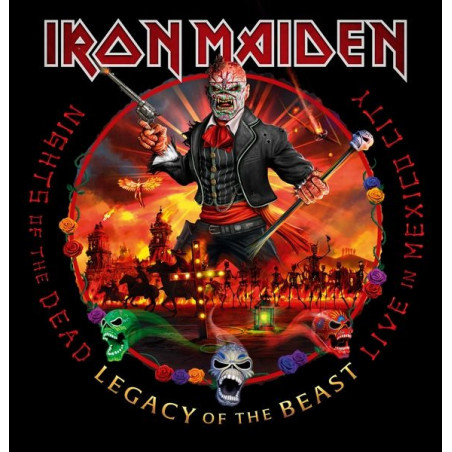  
Iron Maiden - Nights Of The Dead, Legacy Of The Beast: Live In Mexico City (3 Lp-vinilo) Color
Entrega en 48/72 horas (aprox. según Correos). Las compras realizadas antes de las 13:30 se envían el mismo día
IRON MAIDEN - NIGHTS OF THE DEAD, LEGACY OF THE BEAST: LIVE IN MEXICO CITY (3 LP-VINILO) COLOR
23 DICIEMBRE 2020
Detalles del producto
Ficha técnica
Formato

LP3
---
Descripción
Edición Limitada en formato Triple Vinilo Color del álbum 'Nights of the Dead, Legacy of the Beast: Live in Mexico City' de la banda británica Iron Maiden. Este álbum fue grabado durante los tres conciertos que realizaron en Ciudad de México durante el mes de septiembre de 2019 y es una celebración de su tour mundial Legacy Of The Beast World Tour que comenzó en 2018 y que tuvo que posponer su final debido a la pandemia de COVID. Entre los temas incluidos se encuentran clásicos como 'Hallowed Be Thy Name', 'The Trooper', 'Aces High' o 'Fear Of The Dark'.
LP 1:
1 Churchill's Speech
2 Aces High
3 Where Eagles Dare
4 2 Minutes To Midnight
5 The Clansman
6 The Trooper
7 Revelations
LP 2:
1 For The Greater Good Of God
2 The Wicker Man
3 Sign Of The Cross
4 Flight Of Icarus
LP 3:
1 Fear Of The Dark
2 Iron Maiden
3 The Number Of The Beast
4 The Evil That Men Do
5 Hallowed Be Thy Name
6 Run To The Hills
---
Comprar IRON MAIDEN - NIGHTS OF THE DEAD, LEGACY OF THE BEAST: LIVE IN MEXICO CITY (3 LP-VINILO) COLOR al mejor precio
¡Envío gratis a partir de 70€!
Envío a partir de 3,99€ o puedes recorgerlo gratis en Manacor o en Inca