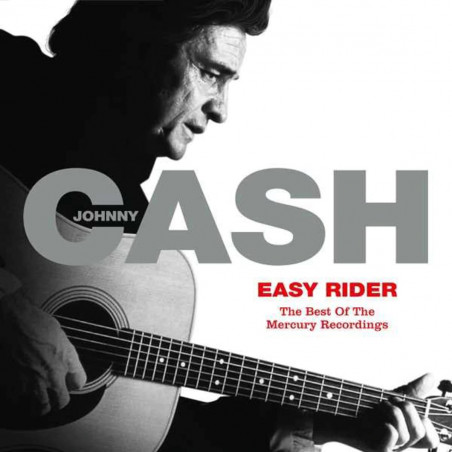  
Johnny Cash - Easy Rider: The Best Of The Mercury Recordings (2 Lp-vinilo)
Entrega en 48/72 horas (aprox. según Correos). Las compras realizadas antes de las 13:30 se envían el mismo día
JOHNNY CASH - EASY RIDER: THE BEST OF THE MERCURY RECORDINGS (2 LP-VINILO)
Detalles del producto
Ficha técnica
Formato

LP2
---
Descripción
Recopilatorio de 24 canciones de la discografía de Johnny Cash en Mercury Records (1986-1991), etapa intermedia entre sus legendarias grabaciones tanto para Columbia como para American. Audio Remasterizado desde las cintas originales. Incluye libreto con textos de Scott Schinder.
1. Waymore's Blues
2. We Remember The King
3. The Big Light
4. The Night Hank Williams Came To Town
5. Let Him Roll
6. W. Lee O Daniel (And The Light Crust Dough Boys)
7. Ballad Of A Teenage Queen
8. The Last Of The Drifters
9. That Old Wheel
10. Get Rhythm
11. Tennessee Flat Top Box
12. Sunday Morning Coming Down
13. Veteran's Day
14. A Backstage Pass
15. Cat's In The Cradle
16. Farmer's Almanac
17. Monteagle Mountain
18. I Shall Be Free
19. I'm An Easy Rider
20. The Greatest Cowboy Of Them All
21. Hey Porter
22. The Mystery Of Life
23. Goin' By The Book
24. The Wanderer
---
Comprar JOHNNY CASH - EASY RIDER: THE BEST OF THE MERCURY RECORDINGS (2 LP-VINILO) al mejor precio
¡Envío gratis a partir de 100€!
Envío a partir de 3,99€ o puedes recorgerlo gratis en Manacor o en Inca